About you
Our actuaries are natural problem solvers who always look for ways to see life differently
Our culture
Our actuaries are detailed and numerically educated, but they also understand the importance of their decisions on a ground level. Our Actuaries will cover all aspects from corporate pension plans to determining the cost of insurance premiums, with the potential to move up to leadership roles. Whether you're protecting new homes or growing investments, join our world-class team and make the numbers mean more.
Our roles
Behind all of our figures is a detailed back story, which makes our Actuarial roles anything but familiar.
What's a career as an actuary like?
Ever wondered what the job of an actuary is like – or even what exactly they do?

Meet Vibha, Business Solutions Analyst, who tells us her take on becoming an actuary – and what kind of person would suit a career in this varied and fast-paced field.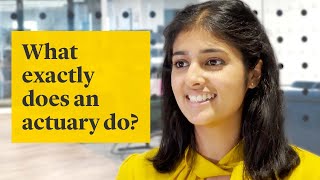 What's a career as an actuary like? video
You may be interested in
Take a closer look at what's happening across Legal & General.
Finance
We partner with the business to enable it to grow and understand the financial implications of every decision.
Investments
With us, you'll be part of a world-class team developing and executing investment and hedging strategies.
Future talent
With the next generation being talented, diverse and bringing a new perspective, we're pretty excited.